Spinach landing page
TheFork commits 20 million € to revive the restaurant industry offering any new user in France, Italy, and Spain 20€ to dine out
TheFork is launching "La France au resto" in FR, "Italia Al Ristorante" in italy and "Todos a los Restaurantes" in Spian, an unprecedented event aimed to support the restaurant industry by bringing more customers to restaurants to regain and surpass pre-covid levels.
TheFork, the leading online restaurant reservation platform, launches a massive operation like never seen before, to assist the restaurant industry revival. Over the years, TheFork has built a community of millions of diners, who have continuously supported restaurants by dining out. Thanks to the actions that TheFork has implemented, such as loyalty programs, more people are being attracted to restaurants, which today means a greater contribution to the recovery of the industry. However, to have an even greater impact and encourage even more diners to eat out more, TheFork decided to extend its incentive program, and is now offering € 20 to each diner who has never booked through its platform. The ambition is to drive to restaurants as many people as possible (potentially millions) to support the comeback of the restaurant sector.
This unprecedented operation will take place from July 15 to September 15 in Spain, Italy and France, three highly touristic European countries, where TheFork Pay, TheFork's innovative in-app payment solution, is live in nearly 20 000 partner restaurants, and thus injecting liquidity in the economy of TheFork's main markets in Europe.
Through the easy-to-use activation code "AURESTO", new users will be able to benefit from 20€ when they book and pay via TheFork app, which applies as soon as the bill reaches €21. In France, nearly 5 000 restaurants are set to participate in the operation, with the number growing every day.
20 million € injected in restaurants to accelerate business recovery
A historical partner of restaurants, TheFork's mission has always been to increase restaurants' revenue, bookings, and enhance their activity. In these past months, the industry has experienced an unprecedented crisis and is struggling to recover despite the enthusiasm of consumers since the reopening. Through this massive campaign, TheFork wants to settle the last piece of the return of normality for the restaurant industry.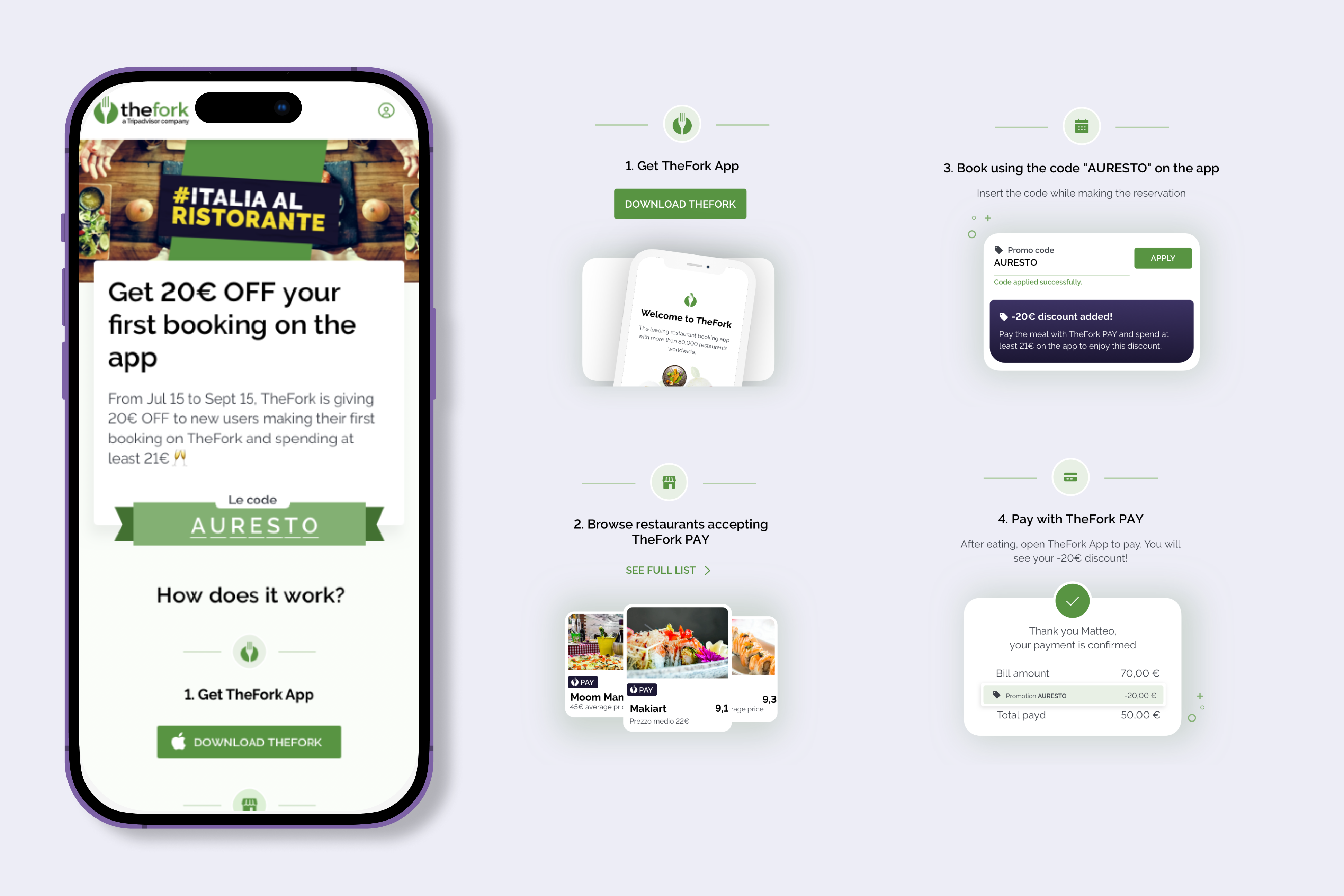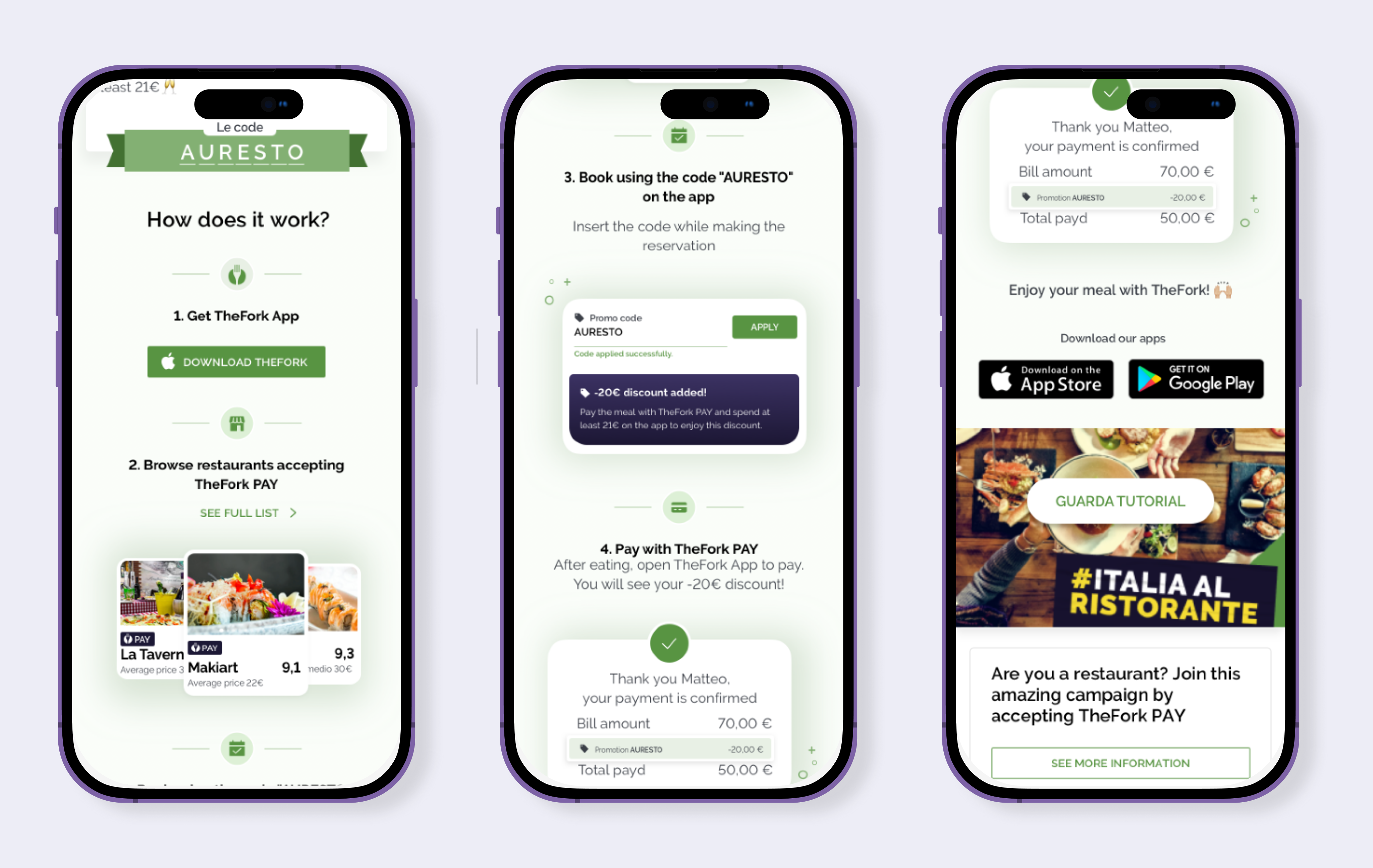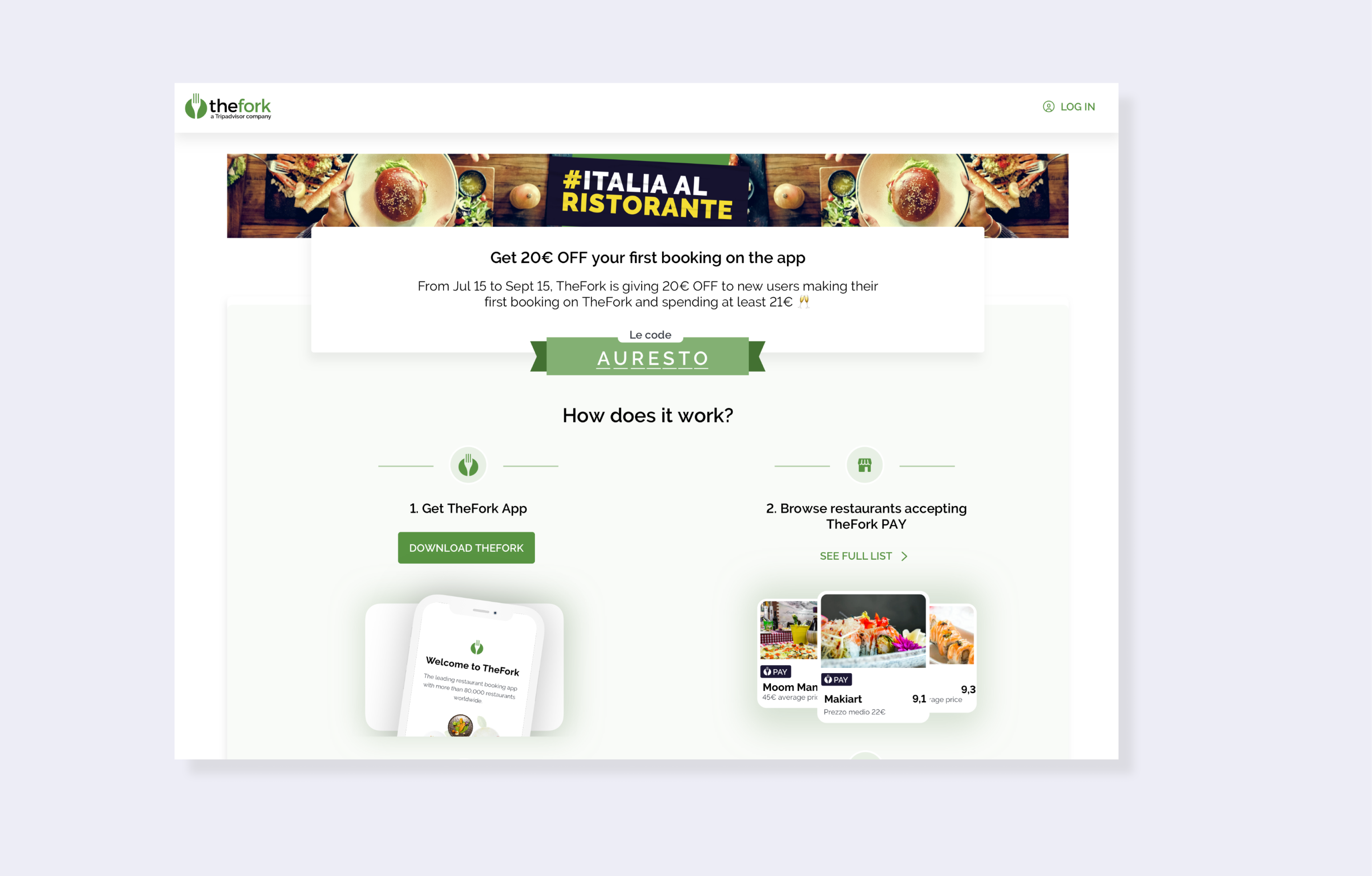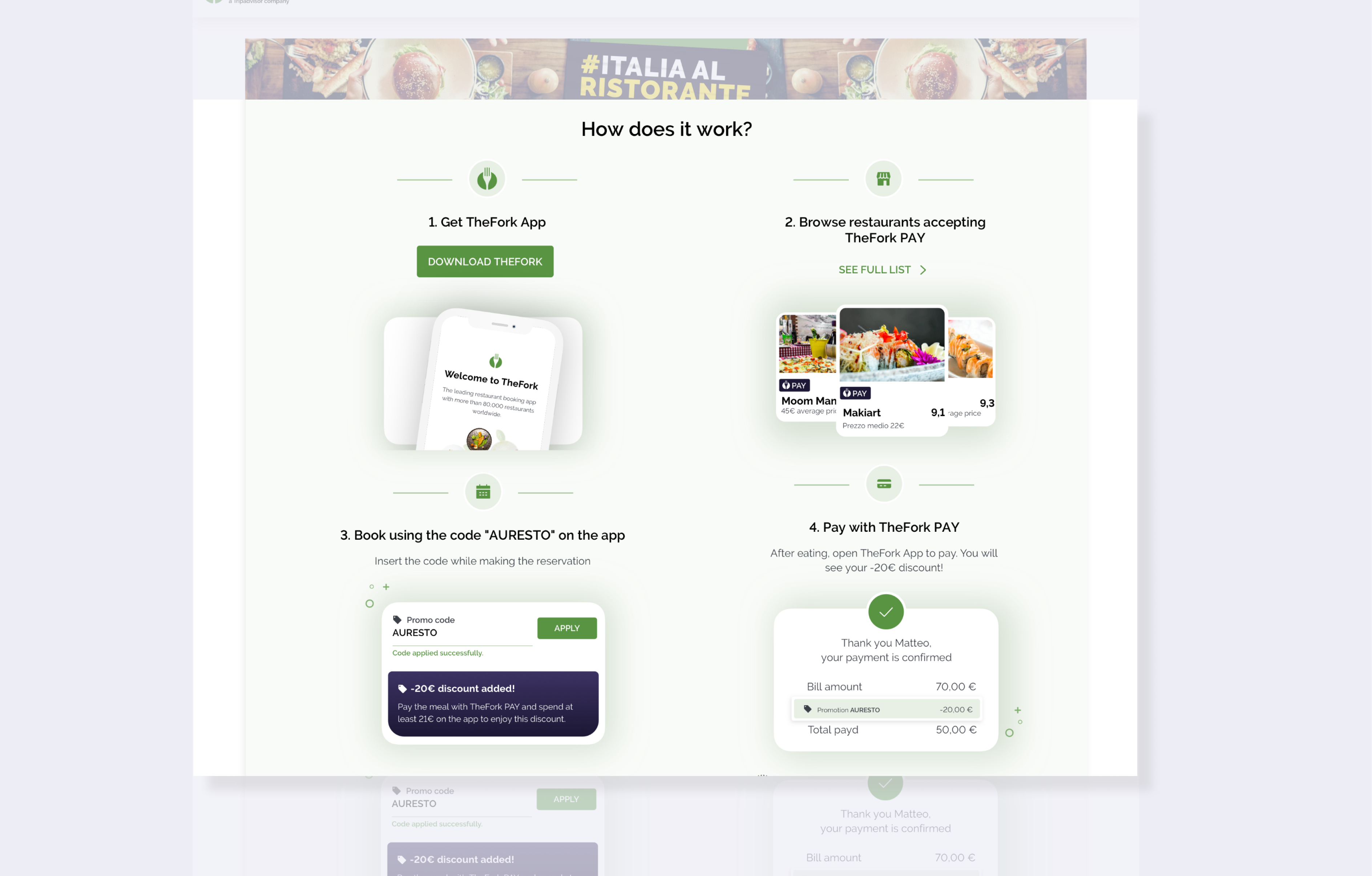 How can diners benefit from it?
Anyone that has never booked through TheFork platform will be able to benefit from 20€, by entering the "AURESTO" [localize] code in TheFork app on their first booking. TheFork is committed to offering restaurants fit for every occasion and every budget to allow as many people as possible to enjoy gastronomy and share happiness through amazing culinary experiences.
The 20 euros can be redeemed in Spain, France, and Italy at a selection of nearly 20,000 restaurants using TheFork pay, offering a range of dining experiences from Michelin starred to contemporary bistros of young talented chefs to brasseries.
How will it work?
#1. Download or open TheFork App
#2. Browse tons of eligible dining options using TheFork Pay filter
#3. Reserve a table at the restaurant of choice before 15 September 2021, finalize by choosing a date and time for your meal (which can be after that date) and enter the code "AURESTO" when booking
#4. Pay after you've enjoyed your meal using TheFork Pay within the app. Add the bill amount and find the 20 € already deducted when paying. The deduction applies as soon as the amount reaches €21 (tips included).